Young Middlesex seamers make light work of Leicestershire line-up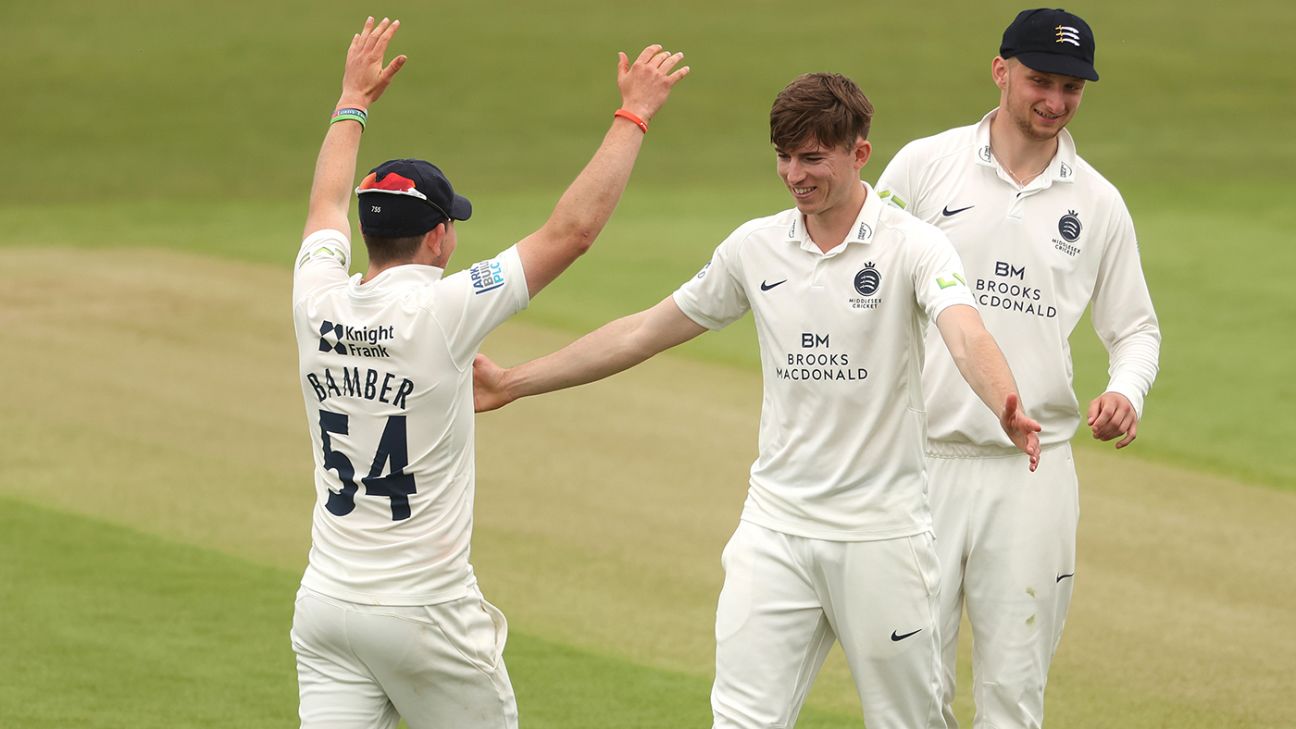 Andersson claims four as hosts are bowled out for 136 in reply to 295 built on Simpson's 95*
Middlesex 295 (Simpson 95*) and 57 for 1 (Eskinazi 31*, Gubbins 20*) lead Leicestershire 136 (Parkinson 41, Andersson 4-27, Bamber 3-36) by 216 runs
Middlesex's faith in their young bowling attack looked fully justified as Leicestershire were dismissed for 136 in this shoot-out between the fifth and sixth placed teams in Group Two, although it was the seamers rather than the two rookie spinners among them who inflicted 90 per cent of the damage.
, the 24-year-old, was the most successful, his 4 for 27 representing his best bowling for Middlesex and including a burst of three in six balls as Leicestershire, having been 17 for 3, reeled again at 42 for 6.
, 22, followed with 3 for 36 and head coach Stuart Law's smile broadened further when Luke Hollman, the tall 20-year-old leg spinner, turned one past the bat to dismiss last man Ed Barnes, his second first-class wicket in his third match.
He and Thilan Walallawita, the 22-year-old left-arm finger spinner who bowled eight occasionally threatening but wicketless overs, may play a bigger part in the fourth innings after Middlesex, 159 ahead on first innings on the back of 's unbeaten 95, declined to enforce the follow-on. By the close, they had stretched the lead to 216 for the solitary loss of opener Sam Robson, leg before to a full ball from Chris Wright.
The swing towards the visiting team that had begun in the final session on Thursday was momentarily checked but then accelerated again on the second morning as Leicestershire's response to Middlesex's 295 took some early hits, leaving them three down for 21 at lunch.
Simpson, 73 overnight, had missed out on what would have been a first century since September 2019 and Middlesex missed out on a third batting point, but those regrets were soon forgotten as Bamber removed Hassan Azad and Tom Helm saw off Leicestershire's two best batting hands in consecutive overs, following his dismissal of Australian Test opener Marcus Harris with that of the Leicestershire captain, Colin Ackermann.
Middlesex have left themselves a seamer light by going with two spinners here but Bamber and Helm made their presence count emphatically as Leicestershire unwittingly exposed themselves to 40 minutes at the crease just before lunch in which neither bowler held back.
Azad, who took a painful blow on his bottom hand while fielding at short leg on day one, was deemed in good enough shape to open as usual but had barely time to work out how comfortable or otherwise he was when Bamber produced a ball that squared him up slightly and took the edge, Stevie Eskinazi pouching a routine catch at third slip.
Ackermann likewise found himself dealt an unplayable delivery, Helm finding some bounce off a pitch that looked to have quickened up a little, the ball taking the shoulder of the bat and caught brilliantly at second slip by Sam Robson, leaning back to make the grab with both hands above his head.
By contrast, there were no extenuating circumstances for Harris, who made a complete misjudgement of a ball in Helm's previous over that bounced much less, the left-hander taking a shuffle-step forward in his crease but deciding he'd leave it alone, which is not a wise policy when it is going to hit middle and off. John Simpson scored an unbeaten 95 Getty Images
Sam Evans and Lewis Hill sought to repair the damage after lunch, but the introduction of Andersson as Helm took a breather simply inflicted more, the change seamer drawing the benefit of batsman error as Evans got himself caught behind down the leg side before dismissing Harry Swindells and Ben Mike, both leg before to consecutive balls, the former playing round one, Mike pinned in his crease by a full inswinger.
If anyone was likely to mount anything resembling a fightback, on this season's form, it would be Hill, and for an hour he and Callum Parkinson stemmed the bleeding, Peter Handscomb turning to spin for the first time with Walallawita, who was not afraid to give the ball some air.
Yet it was Andersson, switching to the Bennett End, who broke the seventh-wicket resistance after 44 had been added, finding just enough movement to pass the outside edge as Hill offered a defensive push, the ball clipping off stump.
Parkinson battled gamely, he and Wright adding 39, but Bamber removed both in consecutive overs before Handscomb offered Hollman the chance to take the last wicket and he duly obliged with the first ball of his second spell
Earlier, Helm and Barber had been the two wickets claimed in an impressive seven-over spell from Mike, who did not bowl at all on Thursday, having missed Leicestershire's trip to Southampton last week with what was described as a side niggle.
Walallawita played a couple of nice shots against Wright, picking up four from the second of them, to which Wright responded by uprooting his off stump, leaving Simpson stranded on 95 for what had been a composed and chanceless innings of 15 fours.